STAY FOCUSED ON WHAT MATTERS
Access everything you need
from your dashboard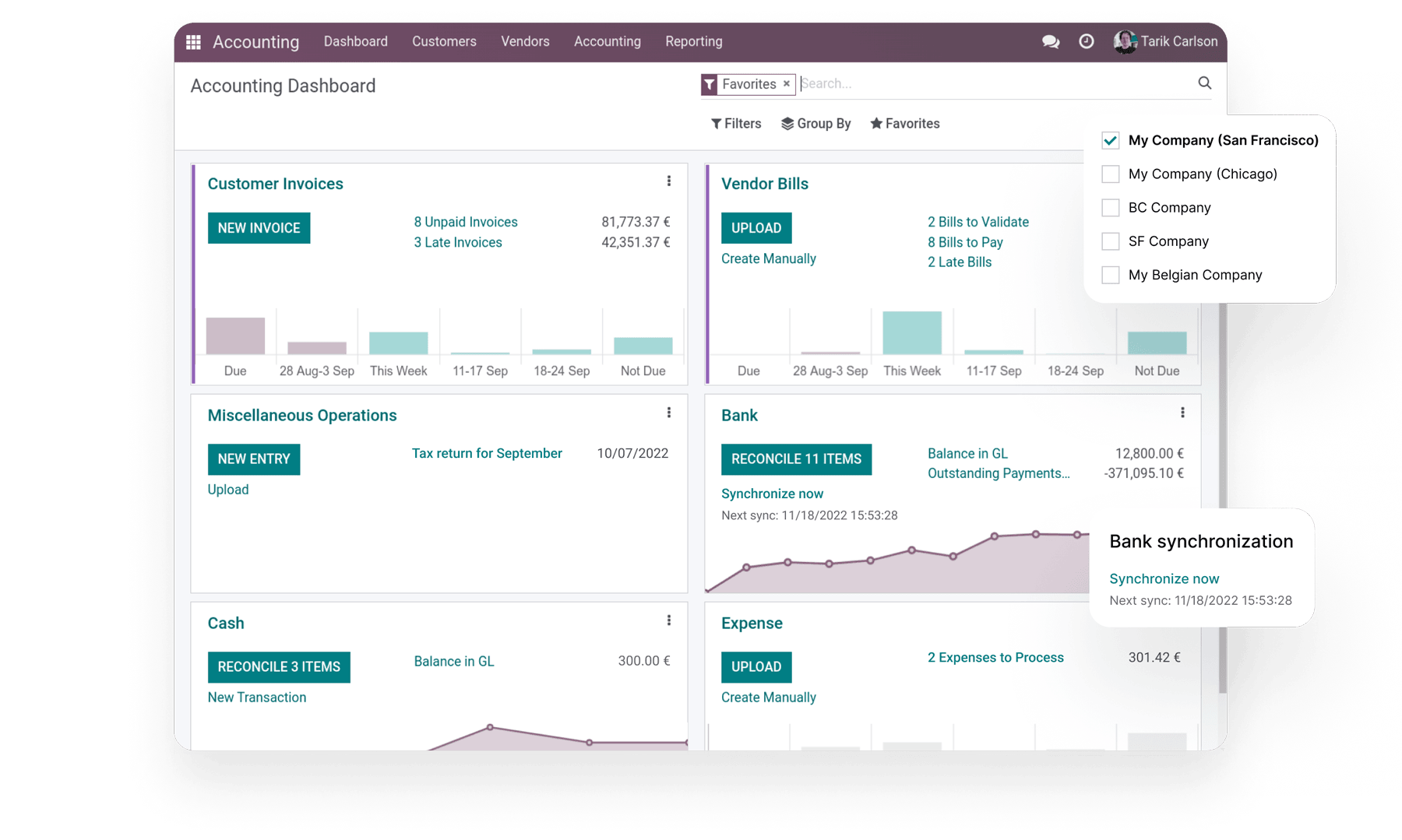 Bank feeds synchronized automatically

Manage recurring invoices and easily track your cost

Your journals at your fingertips

Easy & customizable invoicing with online payment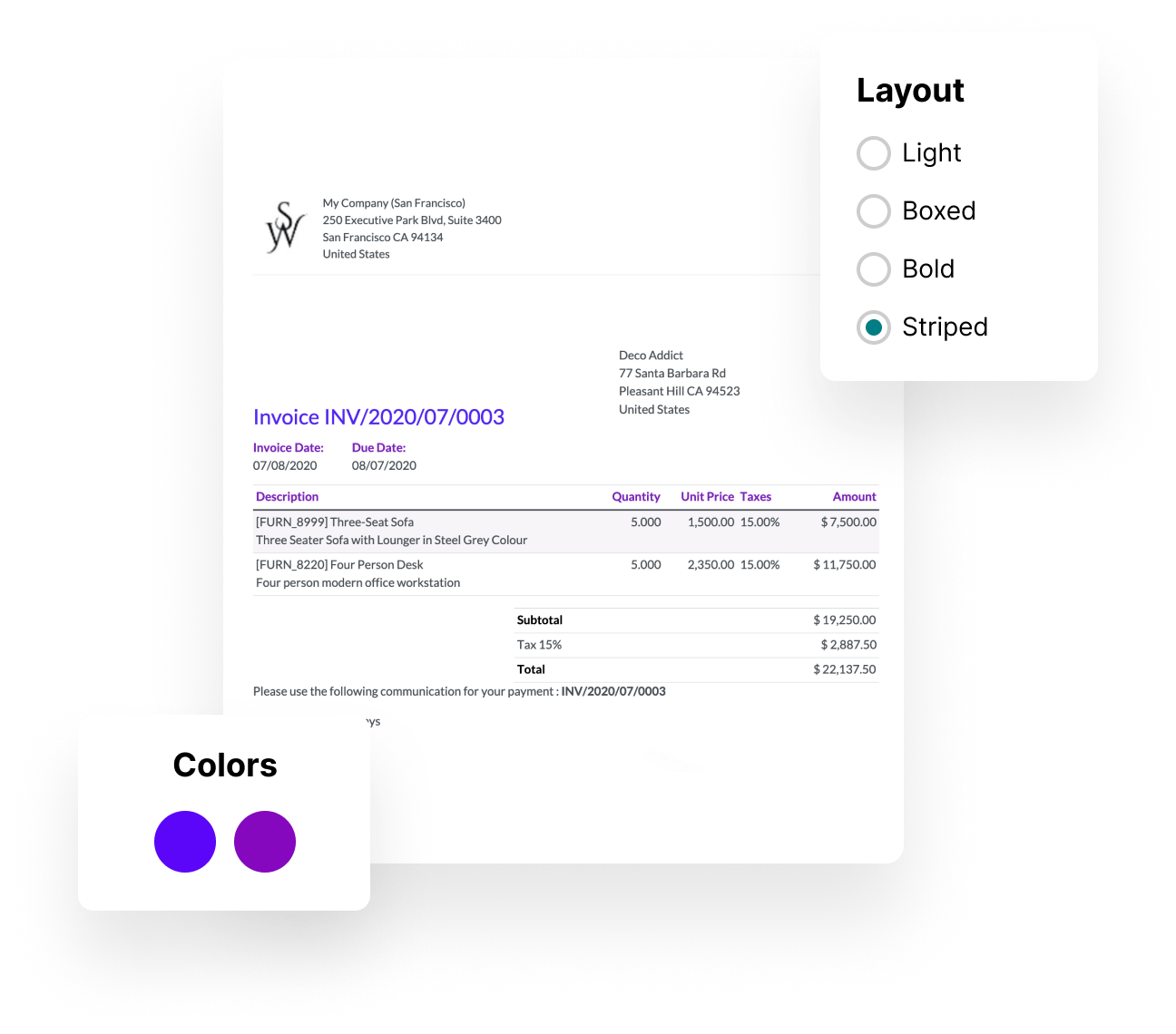 Get paid faster
Convenient customer portal to enable quick payments
Automated follow-ups sent to collect late payments
A multi-currency environment with an automated exchange rate to ease your international transactions
Incoming and outgoing batch payments (SEPA Direct Debit, SEPA Credit Transfer, check, etc..)
All main payment providers (Stripe, Authorize.net, Ogone, PayPal, Adyen, Alipay, and many more.
INTUITIVE FEATURES THAT WILL CHANGE YOUR LIFE
Time-saving tools to make your life easier

Smart Reconciliation Tool
Get automatic reconciliation propositions and register extra journal items on the fly.
Assets
Set up your assets models and never deal with your depreciation entries anymore.
AI-powered invoice digitization
Uses OCR and artificial intelligence technologies to encode automatically your business documents in your accounting.
Accruals
Automatically spread in multiple entries to reflect your deferred revenue and deferred expenses, created in draft mode and posted periodically.
WHEREVER YOU ARE, WE GOT YOU COVERED
Fiscal Localization packages
to match your country's requirements.


With over 70 localization packages, Odoo Accounting is pre-configured specifically for your country's requirements: charts of accounts, taxes, country-specific reports, electronic invoicing, audit files, and fiscal positions to automatically apply the right tax rates and accounts.

Your reports, the way you like them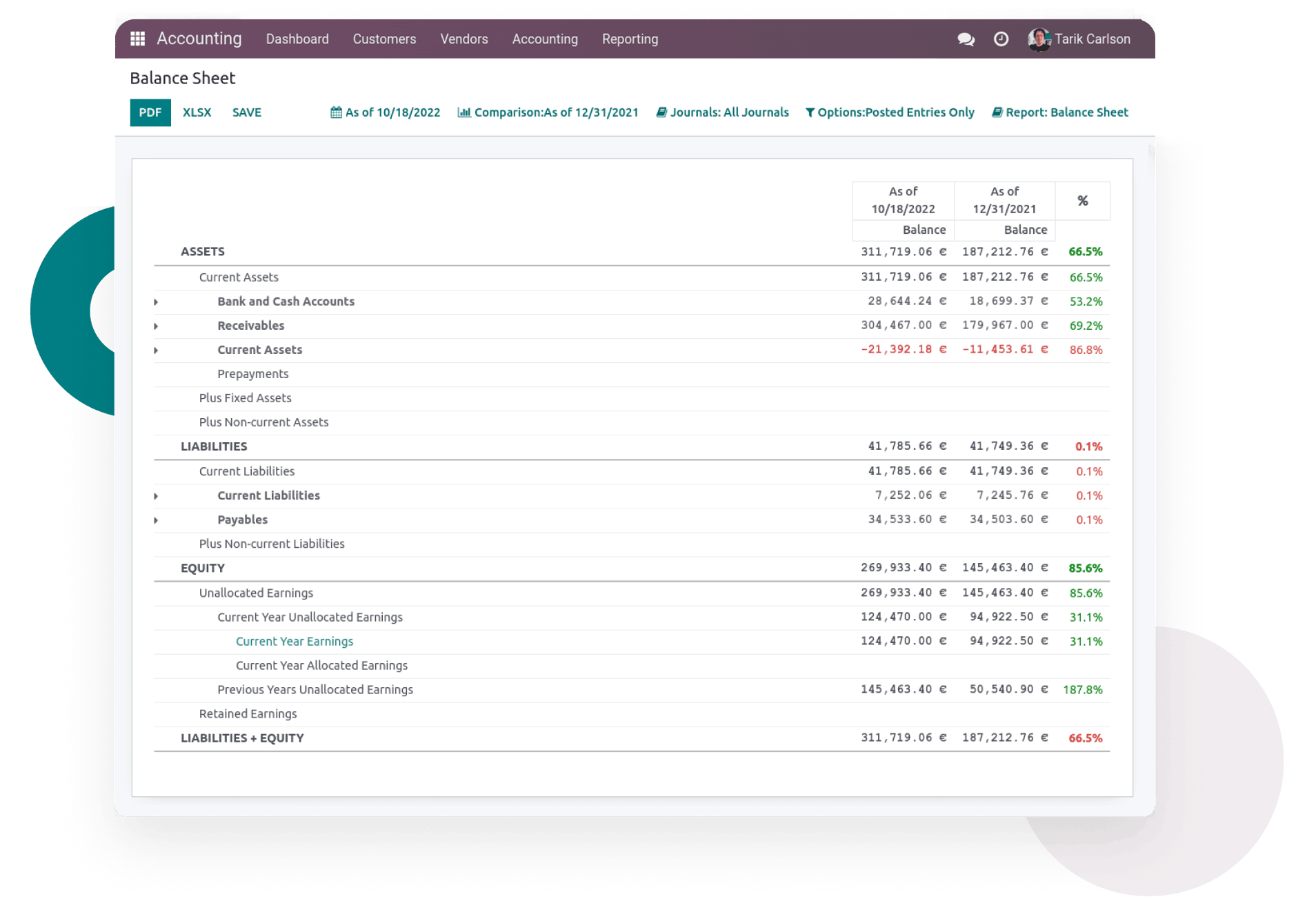 Instant, generic, and dynamic reports
Annotate, export to xsl and see the detail of reports easily.
Limitless reports, any time
To allow you to correctly manage your financial and legal statements.
Compliant tax reports
Get government-compliant tax reports in either accrual or cash basis methods.
Compare your figures between periods
Choose the periods you want and quickly see the comparison.
Spreadsheets
Prepare, analyze and store your reports in spreadsheets, benefitting from data communication and management.
Access detailed data
Easily click on your your report lines and access key information quickly
Monitor and analyze your figures to grow your business
Ease the analytic distribution on invoices and
bills thanks to a dedicated custom widget
Manage multiple analytic plans and sub-plans
to shape your own analytic multi-dimensions/axes
Structure your analytic accounts automatically
based on projects, contracts, departments, etc.
Use budgets to compare actual
with expected revenues and costs
ACCOUNTING FOR FIDUCIARIES
INTEGRATES THE DOCUMENTS APP AND EASES YOUR LIFE
Designed for fiduciaries
Effortless documents management
Clear and detailed clients dashboard
Collaborative system
Unlimited amount of users